Portable Sprinklers
T-400 Portable Irrigation Machine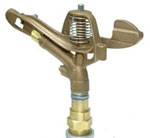 Underhill offers a wide selection of high quality impact sprinklers to top your RollerPro™ portable sprinkler base.
Underhill RollerPro - Portable Sprinkler Base
LOW VOLUME PORTABLE SPRINKLER KIT
SpotShot™ is an expandable sprinkler system kit ideal for turf areas requiring low volume watering for extended periods. Connect the Starter Kit to a quick coupler (or golf sprinkler with the HoseTap™ on page 12) and connect Add-On Kits for larger area needs.